About Us

I AIM TO MAKE CRAFTING MODERN AND RELEVANT FOR EVERYONE.
Cloth of Gold & Haberdashery
We have been at 126 High Street in Royal Wotton Bassett since 1987, however it is time we had a little change...
We will now stock Fabric, Haberdashery and Wool along with the continuation of Janome & Elna sewing machines, Horn sewing cabinets and Patterns from a range of Simplicity brands and Tilly and the Buttons. Going forward we aim to provide workshops and sewing parties for all ages!
Please drop us an email of your suggestions of how we develop our brand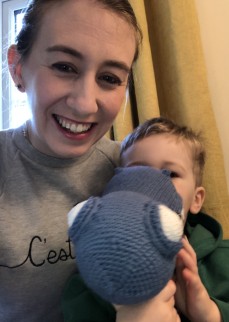 About Me
Hi everyone, I'm Sarah Jackson, the new owner of Cloth of Gold. I graduated in Fashion Design in both women's and men's designs at the University for the Creative Arts in Epsom, Surrey and featured my collection of menswear on the catwalk at London Fashion Week, Earls Court. Upon graduation, my passion has always been to open a fabric and haberdashery shop. Having spent eight years working in management of high street fashion and lifestyle brands for the flagship branch in Oxford Street of House of Fraser, and subsequently Austin Reed Group, Kath Kidston and Oasis & Warehouse I will be using this knowledge to empower my ethos of a fabric shop that will be ever evolving and modern.
As a mum to a little boy I believe its super important that we can develop our skills to be creative. I am a great believer that creativity can be a great aid for mental wellness. I have personally found an easy craft to occupy the evenings is crochet amigurumi and in my household it's a win-win. I get to unwind and clear my head and my son gets a new dinosaur!
Sarah Jackson BA Hons Fashion, Managing Director of Cloth of Gold & Haberdashery Ltd