Instore Product & Services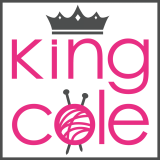 We are delighted to be a King Cole stockist. Established in 1935, King Cole has always been a family business driven by strong traditional values and a dedication to our chosen industry. We continue to innovate in yarn production and started to release recycled yarns meaning they now offer a variety of yarn from natural wool to acrylic to recycled.

King Cole has been operating in the knitting wool industry for over 80 years and continues to develop multiple different knitting wool colours and weights for our consumers to choose. We are proud to provide a wide range of different yarns along with offering both crochet and knitting patterns.
We are a stockist of the wide range of high-quality Horn cabinets, ideal for elegantly housing your sewing machines and accessories. Their design can evolve with you, and for a little extra cost can be adapted to fit other sewing machines if you should ever change your machine in years to come and they stand the test of time, I know, as I was given a Horn unit from my Gran which is now over 40 years old and it still looks and works beautifully. If you would like to book an appointment for a 1 to 1 service to discuss the range to suit your needs, just ring the store on 01793 853908 and we will get that booked in.
(pronounced: Ja – No -Mey)
Janome are a brand very close to my heart as my first ever Sewing Machine and Overlocker were Janome and 12 years on they are still working perfectly. Janome machines are easy to thread up, straightforward to operate, reliable and good value for money. The beady eyed customers will have noticed that these are the brand of machines used on BBC's The Sewing Bee. They have enabled me to make basic garments I created at college to my more complex experimental garments constructed for my graduate collection which consisted of unusual fabrics, such as Leather, Airtex, Neoprene, Silks and Jersey. With the right accessories (all available to order from our store or online) I believe Janome can enable you to sew whatever you want to create. We stock several demonstrator models, to book an appointment for a 1 to 1 play and experiment with the different types of machines, just ring the store on 01793 853908and we will be delighted to get that booked in.
We are very proud to announce Janome UK have recently received the following Awards.

British Sewing Awards 2020

The British Sewing Awards are run every year by Sew magazine.
The nomination process starts in March, when the sewing and haberdashery community nominates its favourites in 26 categories. This is then shortlisted and put to a vote, Finally, the overall winners are announced at the end of the year.

British Sewing Awards WINNER
• Best all-rounder machine brand –
Winner JANOME
• Best quilting machine brand –
Winner JANOME
• Best entry-level machine brand –
Winner JANOME

British Sewing Awards Highly Commended
• Best embroidery machine brand –
Highly commended JANOME
• Best top-spec machine brand –
Highly commended JANOME
• Best overlocker brand –
Highly commended JANOME

Best of Craft Awards 2020
Best Sewing machine brand –
Highly commended JANOME